Our Church Vision & Mission
Following Jesus and Making Disciples Through Building Relationships
Our mission is to wholeheartedly magnify God through corporate worship and prayer. Persuasively fulfill God's mission to the lost through word and deed. Intentionally mature and build up attendees through ministries. Effectively mobilize and equip disciples for service.
Magnifying God through our lifestyle of worship.
We promote a lifestyle of worship and prayer both corporately and personally. We live our lives dependent on the love of God, the grace of our Lord Jesus Christ and the fellowship of the Holy Spirit. The Holy Bible reveals the mind of God and gives us wisdom, teaching, truth, correction and instruction for right living.
Mission to the world.
All people are of value to God being made in His image. We have a responsibility to win the lost through sharing God's love in word and deed. In serving God, we serve others and seek to develop relationships through participation and partnership.
Maturing in Christ
Empowered by the Spirit of Christ within us, we are able to live a life displaying the fruit and gifts of the Holy Spirit. As faithful stewards we willingly give of our time, talents, finances and selves. We recognize the need to develop and encourage believers in their spiritual growth and maturity, until we all come to a oneness in our faith and in our knowledge of the Son of God.
Mobilizing the Church
All believers are gifted and called by the Holy Spirit to service. They need to be equipped and mobilized for mission and ministry. As an expression of the body of Christ, all believers have their part to play in the local church.
Queensland Baptists
We are a member of Queensland Baptists. More information about Queensland Baptists can be found at www.qb.org.au
---
Statement of Faith
We believe:
The Bible is the inspired Word of God and the supreme and final authority in faith and life.
In one God eternally existent in three persons: Father, Son and Holy Spirit.
That Christ was begotten by the Holy Spirit, born of the virgin Mary, is true God and true man.
That man was created in the image of God; that he sinned; and thereby incurred not only physical death; but also spiritual death which is separation from God; and that all human beings are born with a sinful nature, being sinners in thought, word and deed.
That the Lord Jesus Christ died for our sins according to the Scriptures, as a representative and substitutionary sacrifice, and all who commit themselves to Him are justified on the grounds of His shed blood.
In the resurrection of the crucified body of our Lord, in His ascension to the right hand of the Father in heaven, in His present life there for us as High Priest and Advocate;
In the personal, imminent return of our Lord and Saviour Jesus Christ to receive His Church and to judge the world.
That all who come to repentance of sin, and faith in Jesus Christ as their Saviour and Lord, are born again of the Holy Spirit and baptised by the Holy Spirit into the body of Christ, thereby becoming children of God.
In the bodily resurrection of the just and the unjust; the everlasting blessedness of the saved, and the everlasting condemnation of the lost.
That the ordinances of Believers Baptism by immersion and the Lord's Supper are to be observed as a symbol of our fellowship with the Lord in his death, burial and resurrection, and as a reminder of the sacrifice of his body and his blood for our sin.
---
Pastor's Pen
Be inspired, encouraged, challenged, and uplifted by the weekly editions of the Pastor's Pen prepared by the Pastoral Team at Rockhampton Baptist.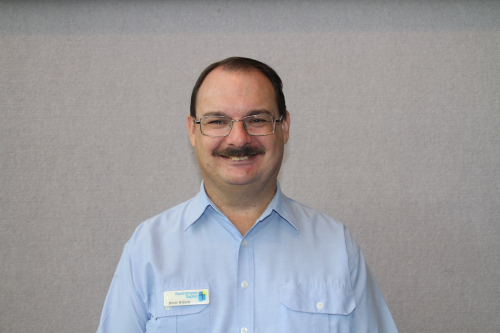 Pastor Brett Wilson
Brett is the Senior Pastor at Rockhampton Baptist. Prior to accepting the Senior Pastor role in July 2018, Brett oversaw the development of Christian discipleship throughout the church, training, and spiritual mentorship, roles he has taken with him into his Senior Pastor position. He was also responsible for the overseeing and coaching of the young adults and youth ministries, areas he is passionate about.
His strongest ministry contribution is in the area of preaching, teaching, coaching and mentoring. Brett is an ordained minister of Queensland Baptists with 20 years of pastoral ministry experience. Brett started pastoring officially in 1996 where he planted New Beith Baptist church in Brisbane's south west and has since pastored in Innisfail, Enoggera and now Rockhampton Baptist.
Brett has a passion for the gospel and God's power to change lives. He is committed and called to the work of teaching people how to discover a deeper knowledge of God and understanding His will for them.  Brett has a commitment to the concept of small discipleship groups and to a culture of mentoring. He particularly enjoys ministry to children, youth and young families.
Brett is married to Debbie and together they have 6 children and one grandchild. Brett enjoys camping, model making and working with wood.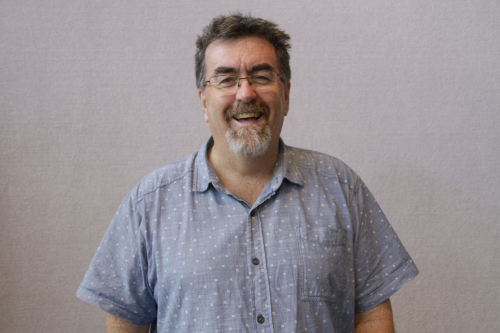 Pastor Ross Wardill
Ross started at Rockhampton Baptist in 2015, having previously served in both Senior and Associate Pastor positions in churches from Brisbane to the northern parts of our great state.  Being called to Rockhampton Baptist as the young families Pastor, he has been responsible for the continued development of our involvement at Glenmore State School through our Family Connect ministry.
He is also involved in the Young Families' ministries of our church, particularly in leading the Young Families Growth Group and overseeing the work of our other Children's Ministries, led by a group of very competent leaders and teams.  He also contributes through the music team, preaching and connecting in with our Omega group.  Ross loves to connect with people, and assist them to connect with one another, and ultimately into a personal and growing relationship with Jesus.
Ross and his wife Sharon work together in several of his roles, while Sharon is also employed as a Registered Nurse in the Emergency Ward of the local hospital.  Together they have four children, and six grandchildren; two of them being twins.
Ross is a passionate supporter of the Cowboys NRL team which he traces back to the earliest days of their introduction to the competition while he was pastoring at Charters Towers, and later on in Townsville.  On his days off, you will either find him exploring, fishing, at the cinema, working around his yard, or just taking it easy.
Pastor Dan Keevers
Dan started at Rockhampton Baptist in 2019 and, having served in various ministry positions on the Southside of Brisbane, he sensed God's leading to relocate to central Queensland. Dan's call to Rockhampton Baptist as Outreach Pastor has allowed him to grow both internal and external outreach programmes and initiatives.
He is driven by a God-given desire for people to discover and be set free through truth (John 8:31-32), and to see a healthy culture of discipleship among the Church community. Through his preparation at Malyon Theological College, various ministry experiences, and the spiritual gifts given to him, he is eagerly expecting God to move in miraculous ways.
Dan and his wife Caitlin have two young children as well as a pet Labrador named Eli. Dan is a motorsports enthusiast and enjoys most things to do with cars and how they work. He enjoys retreating to the beach at Farnborough and local parks with the family.